One of the purest expressions of Walt Disney's genuine patriotism during the war years was his decision to establish a unit devoted to producing customised military unit insignia free of charge for U.S. armed forces and their allies. Headed by the talented draftsman Hank Porter, whom Walt referred to as a "one-man art department," the unit worked steadily throughout the war, turning out nearly 1,300 insignia upon request.
By far, the single most requested and used Disney insignia character during the war was Donald Duck, who was featured in at least 146 designs. The numerous requests for insignia bearing Donald's likeness resulted in a wealth of drawings that successfully channeled his irascibility as patriotism and military zeal, often with a comedic flourish.
Next to Donald, the character that appeared in more insignia (about 35) than any other was Pluto. Like Donald, Pluto was popular,  and his trademark facial expressions that made it easy for the artists to incorporate him into a variety of military insignia. Goofy was next in popularity at 25 insignia, and Jiminy Cricket appeared in 24.
Sometimes a unit had a specific design already in mind, and was seeking a Disney artist's skill to bring it to life, attaching a rough sketch to their request letter for reference. The bulk of insignia were designed for Army units and Navy vessels, but occasionally individuals requested their own personal insignia design. These requests were accommodated and executed with the same level of care as insignia for an entire ship, bombardment group, or battalion.
The request letters were often addressed simply to "Walt Disney, Hollywood, California." Once a letter was received, it would be placed in the queue of pending requests, and the turnaround time was usually three to four weeks, though a wait of several months was possible when the insignia unit was particularly swamped. The procedure for the creation of an insignia design varied, but it typically involved a preliminary pencil drawing in which the image was established, then a full-colour pencil version, and finally a full-colour gouache on art board that would then be forwarded to the requesting unit or party. This would often hang in the unit headquarters and serve as a template for reproducing the emblem on airplanes, tanks, and other military equipment, as well as on uniforms and unit letterhead.
It is difficult today to fully appreciate how it felt for a serviceman to have his unit represented by a Disney-designed insignia. For the generation that fought World War II, Disney character images possessed an iconic heft that has no contemporary in todays animation.As incongruous as Disney characters are to the horrors of war, these cartoon military patches embodied pop culture, innocence, American values, and everything the troops loved about home—a much more fitting emblem than a heraldic pompous symbol with no sentimental significance. A Donald Duck insignia boosted morale, not just because it reminded soldiers of home, but also because it signified that the job they were doing was important enough to be acknowledged by Walt Disney.
After Mickey Mouse rode a goose in a patch for a Naval Reserve squadron stationed at Floyd Bennett Field in New York, the illustrations became illustrious among units and inspired Naval artists to recreate the magic, designing their own logos in the Disney style. Almost every Disney character was used in the project— except Bambi.
This logo for Floyd Bennett Field depicts Mickey Mouse flying atop a goose (bomber) with a Navy trident in front of a silhouetted Statue of Liberty. The logo predates World War II and was not sanctioned by Disney. However the insignia likely led the charge for similar insignia after the start of the war.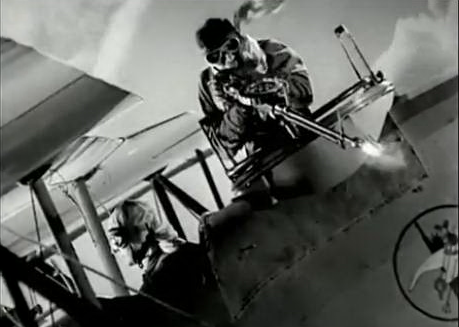 The insignia was taken from the memorable silver-screen scene in King Kong. It can be seen briefly in this still frame.
Donald Duck zooms from an air-launched torpedo, guiding it into its target.
This insignia was for Aviation Repair Unit No. 1, providing aircraft repair and maintenance personnel for overseas deployment as advanced bases were readied.
USS Wasp (CV-7), churning across the sea carrying aircraft, is clearly ready for the fight. She was sunk on Sept. 15, 1942 by a Japanese submarine.
After decommissioning in 1933, the USS Sapelo (AO-11) was reactivated in 1941 to bring vital shipments of fuel to numerous places in the Atlantic.
The caption says it all. Throughout the war, USS Reliable (AMc-100) safeguarded Los Angeles Harbor.
Another minesweeping ship, the USS Positive (AMc-95) swept up mines for the Naval Operating Base at Guantanamo, Cuba, from March 1943 to January 1945.
USS Escambia (AO-80) had the dangerous job of fueling various vessels during the invasion of the Marshall Islands, aircraft carriers as they launched strikes against the Philippines, task-force vessels supporting the invasion of Okinawa, and aircraft flying raids against the Japanese. The ship received five battle stars during the war.
Airships were favored over airplanes to escort ships and scout for submarines because of their slower speeds. This logo for Airship Patrol 32 shows a mouse perched on balloons ready to drop bombs the enemy.
This Airship Squadron 14 insignia depicts an airship atop of a cloud over the ocean with a telescope in one hand with a bomb in the other, combing the seas for enemy vessels.
Donald Duck hauls along a net dragging for mines, suggesting the duty as a minesweeping squadron.
Artists created about ten logos for Naval Construction Battalions (Seabees). Two of them are shown here — 78th and 60th Naval Construction Battalion — which added Disney flair to the classic Seabee logo.
USS Baya (SS-318) completed five war patrols from August 23, 1944 to July 25, 1945 in the South China Sea, Gulf of Siam, Java Sea, and the Philippine Sea. She sank four Japanese vessels. The logo displays a bear ferociously ripping and chewing apart the naval ensign of Japan, depicting her relentless pursuit of Japanese sea craft.
USS Cythera (PY-26) functioned as a civilian yacht before seeing service in both world wars.
USS Jason (AR-8) was a repair ship serving in Purvis Bay in the Solomon Islands, and Ulithi, where she spent the greatest part of the war.
USS YMS 329 was a minesweeper serving in the pacific. Her insignia contains an enthusiastic turtle at the ready with a broom, a telescope, fuel, and a mousetrap on its back. A Japanese mine sunk her off of Borneo on June 16, 1946.
During World War II, the USS Piedmont (AD-17) serviced destroyers near battle areas in the Pacific to keep them fit for duty. She also served in the Cold War, Korean War, and the Vietnam War, winning four battle stars for her efforts in the Korean War and one for service in Vietnam.